About Nick's Pizza
"Top Notch" – San Francisco Magazine, August 2012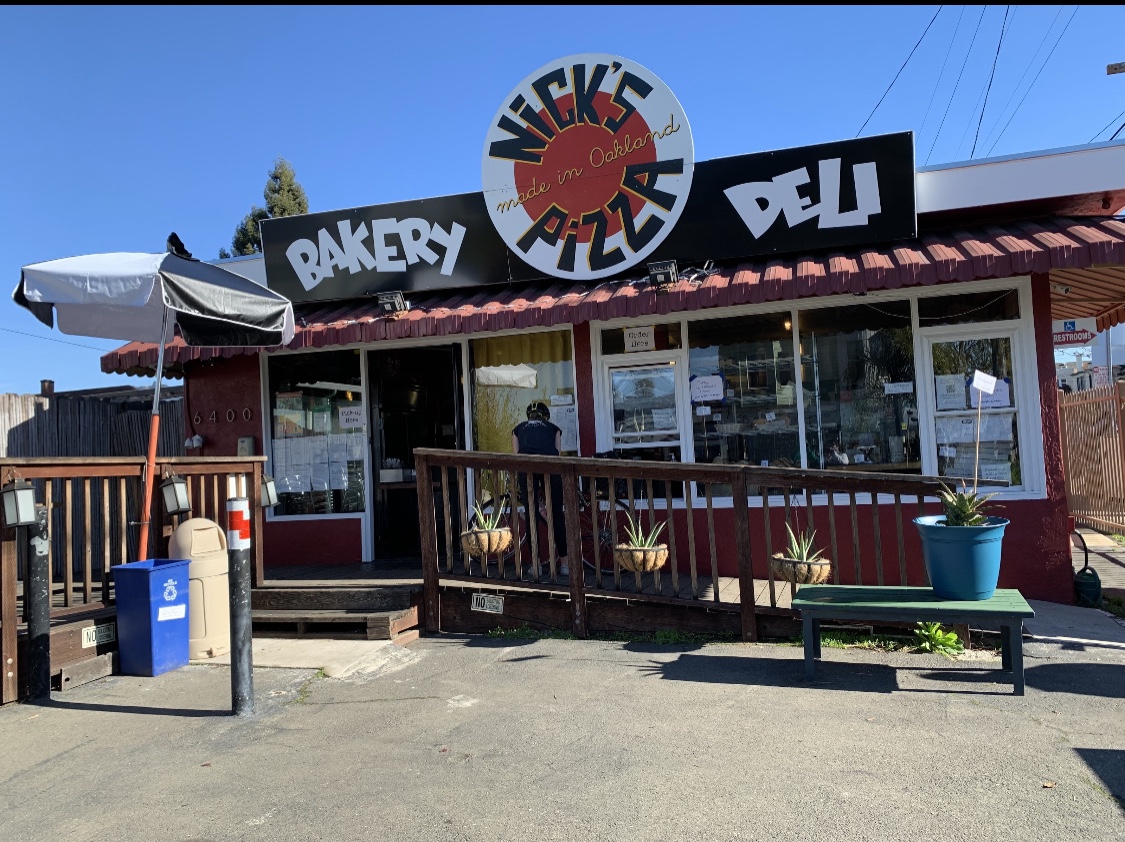 Owner and Chef: Nick Yapor-Cox
After over 8 years serving the Bushrod Park area of North Oakland at their original location, Nick and company have been fortunate enough to expand to a larger location in the neighborhood.
Nick's Pizza, Bakery and Deli is now open at 6400 Shattuck, at the corner of Alcatraz. In the new space, offerings will be expanded to include deli sandwiches on freshly baked bread, green and deli salads, our famous hand-shaped bagels and sourdough breads, and a more extensive pizza menu than ever before. In spring of 2021 we will be adding in daily pastry and bagel service with morning hours serving coffee and tea, bagels and bagel sandwiches, scones, muffins and cinnamon rolls.
***************
"Oakland-Style Pizza," as Chef Yapor-Cox calls it, "will focus on the 'good stuff': hand tossed thin organic sourdough crust, locally sourced and organic produce, natural meats and cheeses. "I'm serious about knowing the quality of what I feed folks. Some of my cheeses and sausages are even made right here in the shop!"
Chef Yapor-Cox grew up in North Oakland, just blocks from Nick's Pizza shop. Raised on the strong coffee, chewy sourdough and fragrant Meyer lemons of the East Bay, Yapor-Cox set off for New York City in 2003 to cut his teeth in the world of fine dining and pastry. After school and life experience in the exacting pastry department at Eleven Madison Park, Alex Guarnaschelli asked him to join her at Butter as Pastry Chef. While his whimsical, sophisticated desserts thrilled customers, Nick yearned for the produce and culture of his hometown, Oakland. After almost 4 years in Manhattan, he returned to the Bay, taking a position in the kitchen at the newly opened Ici Ice Cream. He worked at Ici and as Pastry Chef at B Restaurant before moving on to Arizmendi Bakery and Pizzeria in Emeryville to expand his knowledge of sourdough baking. Here his latent obsession with pizza (don't we all have one) came to the surface as he took on the role of creating the ever-changing menu of pizzas at the seminal cooperative bakery. With years of experience and a nagging hunger to make the best pie in the town, Nick is now setting up shop on his own. Welcome to Nick's Pizza, Made In Oakland.